How to prevent display screen risks ?
We often talk about occupational risks related to manual jobs, but it is more rare to mention those caused by working on screen. Yet many employees spend up to nine hours a day behind a screen. Eye strain, musculo-skeletal disorders and stress can all be caused by poor posture in front of a screen.
I. Risks associated with screen work: the current situation
When the situation is not adapted, working on screen can be the cause of various pathologies. As a specialist in ergonomic workspaces, Fellowes found in a study that 67% of office workers suffered from back pain, 59% from headaches and 57% from eye strain. These high proportions would cost up to €10 billion a year in sick leave.
From a legislative point of view, The Display Screen Equipment (DSE) Regulations 1992 places legal obligations on employers to make sure they put things in place to reduce the risk to employees. It refers to individuals who use DSE equipment continually for an hour or more. Under this legislation employers are required to:
Provide a

proper workstation

Ensure

employees are taking regular breaks

Facilitate an

eyesight test

if requested

Deliver

appropriate training

on using equipment safely
Lastly, whether before or when taking up a post, the employer must also train and make the new employee aware of the proper use of his or her workstation. This prevention will also be disseminated by the occupational physician during the onboarding and the information visit. 
II. The main risks associated with screen work
Although it has never been proven that working on screen can cause visual pathologies, working in front of a screen for several hours at a time can lead to eye fatigue. This fatigue is expressed by sensations of heaviness of the eyeballs, redness, tingling, glare, temporary myopia, headaches, etc. In any case, the phenomenon is reversible and disappears after a suitable period of rest. 
The risk factors can be various and varied. Firstly, there are individual risk factors: presence of visual defects, the age of the employee, unsuitable visual correction, etc. Then there are the various risk factors linked to the workstation: presence of reflections, inappropriate lighting, poor image quality, etc. And finally, there are organisational risk factors: the length of the workday, the absence of visual breaks, etc.
Musculoskeletal disorders
Musculoskeletal disorders particularly affect soft tissue such as muscles and tendons. As working on screen involves static posture and repetitive movements, areas such as the neck, shoulders, lumbar region, handles or hands are often the most affected. 
Here too, there are various risk factors. Among the individual risk factors, we can mention: the existence of visual defects which can cause neck pain, stress or a negative perception of the work context. With regard to organisational risk factors, the ergonomics of the workstation or the employee's lack of awareness can generate musculoskeletal disorders. 
Psychosocial risks should not be overlooked as they can cause high blood pressure, nervousness or depression. In the context of working on screen, psychosocial risks can be caused by repetitive mental work, initiation into new software, lack of executive and decision-making autonomy, time pressure, etc. Exposure to these work situations can have other consequences on the employee's health, such as the development of musculoskeletal disorders. 
III. Solutions to prevent the risks associated with working on screen
In order to limit the risks associated with working on screen, it is important to adopt the right reflexes. This mainly involves optimising the layout of the workstation and raising the awareness of your employees. 
First of all, it is important to offer your employees a workstation that is adapted to their needs. The furniture chosen must be suitable for the diversity of users and the changing context of use. It is therefore advisable to involve employees in the choice of office furniture. Furniture should be chosen with care: 
Chair

: should have an adjustable back, seat and armrests, sufficient depth and firm padding to provide good support

Computer equipment

: a keyboard that can be tilted and separated from the screen, a matt screen to avoid reflections and the fatigue generated. 
Employee awareness also plays an essential role in the process of preventing the risks of working on a display screen. It is the employer's responsibility to ensure that his employees use the equipment provided correctly. Training in work posture can also limit the risks of working on screen. Indeed, even if there is no ideal posture, it is essential to train them in a posture of less discomfort.
As you can see, working on a display screen can have repercussions on the health of your employees. However, setting up a prevention approach will enable you to identify the risks and implement actions to remedy them. Would you like to be accompanied by EHS consultants? Contact us!

Discover our Safety Training Platform
Train your employees anytime, anywhere with our environmental, health, safety and wellness training platform.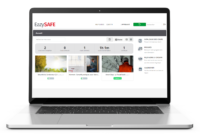 TAILORED TRAINING
Discover our safety training courses and ehs onboardings, which can be customised and offered in several languages.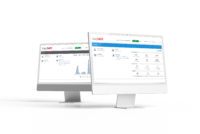 SAFETY MANAGEMENT
Ensure the distribution of your safety policy by training your permanent, temporary or seasonal staff.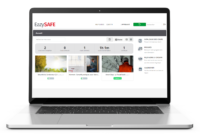 GLOBAL MONITORING
Simplify the management of your safety policy thanks to the numerous dashboards and training reports.