Occupational health and safety in the EU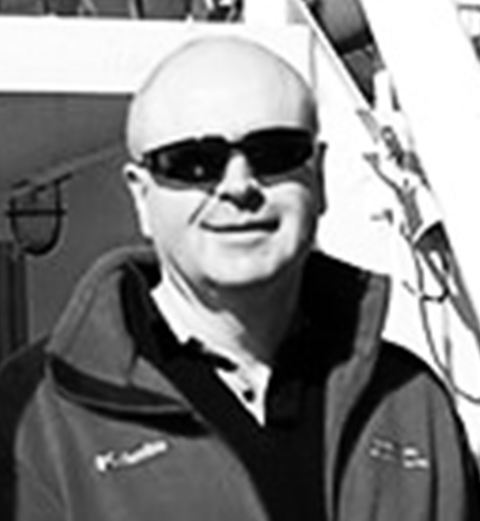 ANDY TILLEARD
EHS Consultant
EazySAFE
For most safety practitioners and others with an interest in occupational health and safety, there is normally a familiarity with the government organisation that has been defined in legislation as the statutory body for enforcing occupational health and safety legislation at a national level. Of course, these will differ depending upon the country that the legislation applies to; some examples are the Health and Safety Authority in the Irish Republic and the Health and Safety Executive in the UK.

In addition to their statutory duties of enforcement, they also provide a broad range of guidance and information across a wide range of OHS subjects which reflect the requirements of the laws of the land. The ubiquity of the Internet and the ease with which websites are now accessible has allowed quick access to the latest information in a way that never existed previously. I can remember ordering by post leaflets and various documents to keep up to date but had to wait for postal delivery to get my hands in these. Now, I have so many downloaded pdf documents on health and safety I hardly know where to look!
Looking at the macro picture across Europe, not only is national information available to businesses from those statutory national bodies there is also an EU wide organisation which has its own clearly defined remit in law to communicate OHS information. In 1994, a community-wide organisation that was set up with the aim of providing "…the Community bodies, the Member States, the social partners and those involved in the field with the technical, scientific and economic information of use in the field of safety and health at work." 01 This created the European Agency for Safety and Health at Work and it is in effect the EU information agency for occupational safety and health. Their website states "We work to make European workplaces safer, healthier and more productive — for the benefit of businesses, employees and governments. We promote a culture of risk prevention to improve working conditions in Europe." At the moment EU-OSHA, as they describe themselves, has a number of key focus areas three of which are summarised below:
"We work to make European workplaces safer, healthier and more productive — for the benefit of businesses, employees and governments. We promote a culture of risk prevention to improve working conditions in Europe."
The Healthy Workplaces Campaigns
These EU-wide campaigns which have been running since the year 2000, are now based upon a two-year cycle and are aimed at raising awareness across a range of OHS subjects. In addition to information, guidance and tools for each campaign, there is also a Good Practice award which recognises outstanding and innovative contributions to workplace safety and health and since 2009, a Health Workplace film award which currently has a prize fund of €5,000. It is inevitable that the campaign process has evolved. For example, campaign periods have been changed from one year to two years and have increased their scope and effectiveness with an expanding number of stakeholders over time and better buy-in as the benefit of improved awareness of OHS issues throughout the EU gains traction. For the years 2016-2017, the OHS campaign is 'Healthy Workplaces for All Ages' and the campaign planned for 2018-2019 will be to raise awareness of the importance of preventing risks from dangerous substances.
More information can be found at https://osha.europa.eu/en/healthy-workplaces-campaigns
The European Survey of Enterprises on New and Emerging Risks (ESENER) survey
Due to its reach across the entire EU, there is an obvious opportunity to survey and communicate with businesses and organisations to understand how the real world works in terms of:
Stress, bullying and harassment and other psychosocial risks.
Management of workplace health and safety risks and worker participation.
General safety and health risks in the workplace and how they are managed.
Drivers of and barriers to occupational health and safety management.
To date, there have been two new and emerging risk surveys commonly known as ESENER-1 01A conducted in 2009 and ESENER-2 02 undertaken in 2014. These have been used to collect data in order to set EU policy, to tailor or develop new OHS regulations, to provide data for further research and to compare the attitudes, opinions and OHS performance of organisations across a very broad audience. As the background section in the 2009 ESENER report stated, "…ESENER aims to assist workplaces across Europe to deal more effectively with health and safety and to provide policymakers with cross-nationally comparable information relevant to the design and implementation of new policies. As well as looking at management practices, ESENER explores in detail how workers are involved in the management of safety and health at work, which is an important factor in the successful implementation of preventive measures at the workplace level." 03 ESENER-2 "…sheds light on the management of the health and safety of workers, building on the findings of ESENER-1. The aims of ESENER-2 were to identify those factors that encourage enterprises to implement measures and those that discourage action. This information is essential for the development of policies, be it regulatory, guiding or supportive." 04 ESENER provides an unparalleled opportunity to access thousands of business across the EU to establish what is actually going on in the day to day operations of businesses in terms of OHS and to get some indication as to where improvements can be made by guidance or regulation to the benefit of all EU workers.
The Online interactive Risk Assessment (OiRA) Project
The OiRA project was developed under "The European Community Strategy on Health and Safety at Work 2007–2012, recognising the importance of risk assessment, called for the development of simple tools to help facilitate the risk assessment process. OiRA was established to do exactly that." 05 The identification, evaluation and assessment of OHS risk are fundamental to good safety management and for ensuring the health and well-being of all workers. OiRA works by leading users to input basic data into pre-defined templates which cover a wide range of everyday work activities; cleaning, hairdressing, private security, car repair, office work and driving schools to name but a few. Once basic information is entered into the template, the system creates an action plan and report. The action plan details how risk is to be controlled and the report provides documentation for the risk assessment process. However, although these are approximately 63 industry sectors addressed at present, because of the EU scope of the project many are in national languages only and only 11 of these templates are available in English to date. It is likely that at a national level, the work of EU-OSHA is generally not known about as the point of reference tends to be the statutory organisation for OHS compliance in each country. However, there is a great deal of useful work undertaken by them to research, promote and educate about occupational health and safety and perhaps both small and large organisations that currently are not fully aware of their resources may get some value from them into the future. For all businesses and regardless of size, it is worth having an email subscription to their periodic newsletters as there is a lot more going on across the EU then perhaps most people realise but perhaps, more importantly, access to EU-OSHA also gives some valuable insight into the background work and research that is undertaken that goes into developing policy and legislation at the EU level.
References:
01 – Council Regulation (EC) No 2062/94 of 18 July 1994 establishing a European Agency for Safety and Health at Work Council Regulation (EC) No 2062/94 of 18 July 1994 establishing a European Agency for Safety and Health at Work, Article 2, Objective.
01A – https://osha.europa.eu/en/tools-and-publications/…/en_esener1-summary.pdf
02 – https://osha.europa.eu/en/tools-and-publications/publications/second-european-survey-enterprises-new-and-emerging-risks-esener

Discover our Safety Training Platform
Train your employees anytime, anywhere with our environmental, health, safety and wellness training platform.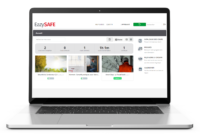 TAILORED TRAINING
Discover our safety training courses and ehs onboardings, which can be customised and offered in several languages.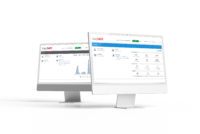 SAFETY MANAGEMENT
Ensure the distribution of your safety policy by training your permanent, temporary or seasonal staff.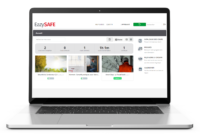 GLOBAL MONITORING
Simplify the management of your safety policy thanks to the numerous dashboards and training reports.